To insert an existing custom field into your magic document, you can follow these steps:
In the Prepare tab, scroll to the line or area you would like to add your field, then click on Insert Magic Fields
Search for the title of your existing custom field, then click on it to insert. That's all!
Note: You can refer to this link if you need help setting up a company-wide custom field.
If you need to add a document specific field for a Magic Doc in GoCo, follow these steps:
In the Prepare tab, click on the Insert Magic Fields > Add Document Field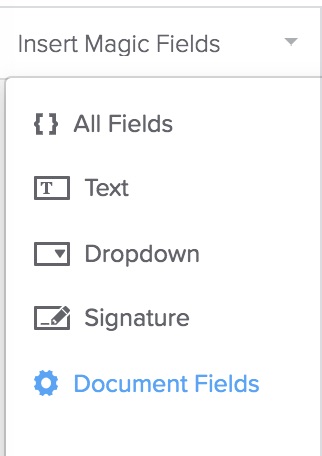 3. In the pop up, fill out the following fields:
Field Name (Required)
Description (Optional)
Field Type* (Required)
Completed By (Required)
Choose to make this Required or Optional
4. Once you complete the fields to create your custom field, click Save
5. Place your new custom field where needed in document - ta-da!
* For Field Type you can choose either a Text Field or a Dropdown if you upload a Word document. If you upload a PDF document you can choose Text Field, Dropdown, Multiple Choice or Checkbox.
Wondering the difference between those fields?
Text Field - gives space for the person who completes the field to type in the value
Dropdown - creates a list of answers from which one can be selected
Multiple Choice - creates list in which one (radio list) or more (checkbox list) can be selected
Checkbox - allows for the completer to mark the field as checked or unchecked
Note: Documents fields differ than custom fields because they are not saved in the company profile or employee profile. Additionally, these fields are not reportable. If you intend to report on a specific custom field, it is best to add it at the company level and insert it into your magic documents. Check out this article to learn more: How Do I Create a Custom Field
Please email help@goco.io with any other questions!