Have additional questions about Magic Documents that aren't answered in our other articles? Check here!
What will happen to my old documents?
Most documents will transition into the new technology seamlessly. However, if your document template was built 2 or 3 years ago, it was built with very depreciated technology that no longer exists in our codebase. Those document templates have been automatically archived. You can find them by going to your document library and scrolling down to "Archived Templates". If you wish to continue using that document, you must re-upload and re-magitize the document with the newer technology.
What workflow will my current documents merge into?
Here is are the mappings that you can expect your current documents to merge to (depending on template type).
Offer Letters: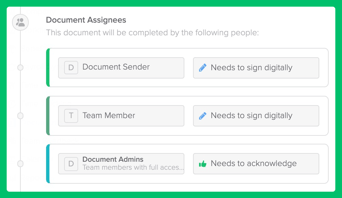 Agreements/Forms/Handbooks:
If your document was a magic document (aka required a signature or populated any employee specific fields):


If your document was acknowledgement only:


Documents to Collect:
If you would like to collect any licenses or certifications from your employees:
Government Forms (please note these documents cannot be customized)
The W4 and W9 will have the same standard workflow:


The workflow for the I9 will depend on whether or not you configure a remote I9 verifier (aka a third party). This is the standard workflow:


Can I change the workflows for my existing documents?
Absolutely! To change the workflow for an existing document, go to your document library and then click the ellipsis next to the name --> Edit Magic Template. By default you will be taken to the settings where you can rename and/or adjust the document assignee steps/actions.
Can I change the workflow for a document already sent?
Once a document has been started/initiated, you cannot change the workflow nor the fields in that document. If you have to make updates, you will need to first update the template and then resend the document. The old version will archive automatically, but you can also delete it.
Why is GoCo asking me to start/review a document when I send it - even if there's no action?
Part of the document migration (look above) required that the sender "digitally sign" before it gets to the employee. If there is truly no action (nor fields) that need to be signed/added/updated when sending the document, simply edit the template to remove the document sender step entirely.
Do I have to review documents after they have been completed?
Only if that's set via the document template settings! Check out the workflow - if there is a set at the end for the sender/admin/etc - it will require some action. If you want to remove it, simply click the "x" and that step will no longer be necessary.
Can an external user be assigned to a document workflow step?
Yes! To accomplish this, you first need to add the external user to GoCo (via permissions).
Go to Company --> Permissions --> User Level Permissions --> Add User.
From here, scroll all the way down and then click "+ Add External User".
Plug in their name and email, and then click save (no need to give them any company or team level access).
Once this is done your user will get an email asking them to create a password for future logins.
Go back to your magic document template and choose their name from the assignee list!
Can I send a document to an external party?
You can only send documents to employees that are in GoCo.
Is the employee sign & review experience different?
The user interface and how you sign the document is exactly the same. However, if your document has multiple employee signatures on it - the user will now be required to sign each instance individually.
Why does the Templatizer look different for PDFs vs. Word documents?
Depending on the template you upload, you will be brought to one of two build experiences. Each format has it's own pro's and con's (listed below).
PDF Experience
The PDF experience is designed for documents you would typically consider forms, agreements, or policy acknowledgements - documents that have checkboxes, drop-downs, multiple choice, etc.
Pros:
The format of your document will remain exactly as is
There are more document/custom field types (checkboxes and multiple choice)
Cons:
If something changes on your PDF - you would need to re-upload and re-magitize the document
If you have a text box and someone types 1000 words in it, the text box size doesn't change (the text within the box would just get smaller to accommodate).
Example:

Word Experience
The Word experience is designed for documents that are typically more free-flowing, like offer letters or contracts. When building a Word document, you can type right into the document and embed text fields into existing paragraphs.
Pros:
If your document changes, you can update in the template directly.
If you have a text box and someone types 1000 words, the text size will remain the same and the text below will merely shift downwards.
You have a ton of format options (images, font size, font type, font color, bullets, numbers, embedded links, etc).
Cons:
You cannot retain footers, tables, and complicated formats.
There isn't the ability to add a checkbox or a multiple choice field.
You can't clearly see when a page break will occur.
Example: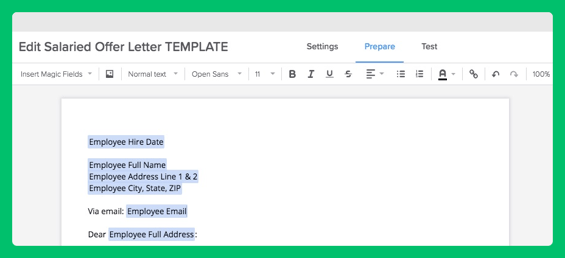 How do I delete a field after I have added it?
Simply click on the field, then use the backspace or delete buttons on your keyboard to remove.
How do I add a Google Doc?
A Google Docs file cannot be added in as a magic doc, however, there is a workaround! In Google Docs, go to File > Download > Download as Word Document (.docx) or Download as PDF.
Who can send a magic document?
Anyone with team level access to "send a template. Check out our permissions articles for more info!
Any other questions? Email help@goco.io