So you've purchased Performance Management and are not sure where to begin? Keep reading to learn the basics of this feature!
Your Performance Module will need to be activated before it is ready for use. If you need help activating this feature, check out our help article here!
Once you have your Performance Management Module activated, you can access it from your Company Home Page or from your Navigation tabs on the left side of your screen.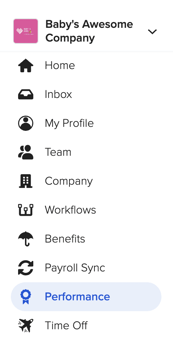 Once you are in the module, you will be taken to the "Overview" Tab. This is where you will see Performance Reviews that have been assigned to you, Active Reviews, and scheduled Reviews at a glance.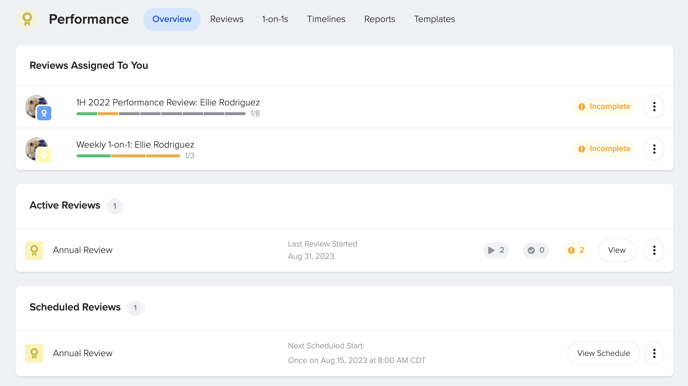 You can switch over to your "Reviews" tab where you will find all of your Performance Review Templates. Here you can see how many of each review template that you have started, how many have been completed & how many are incomplete. You can also start reviews for employees here by clicking the blue "Start Review" button in the top right of your screen or by clicking the "Start" button directly next to your desired template. Check out our guide here.

The next tab that you can view is your "1-on-1s". Here you can view your team members and the last "1-on-1" meeting you had with them. As a Full Access Admin, You can filter this view to display all team members or just your direct reports. You can hit "view" next to any team member and view their "Timeline".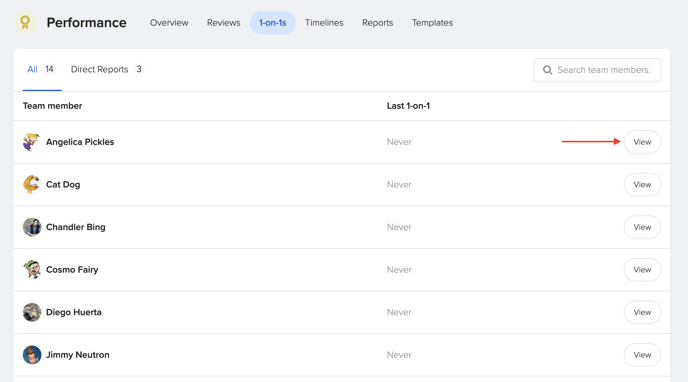 Your "Timelines" Tab is where you can see an overview of your employees and their Last Activity. You can again, click on an individual employee and view their "Timeline".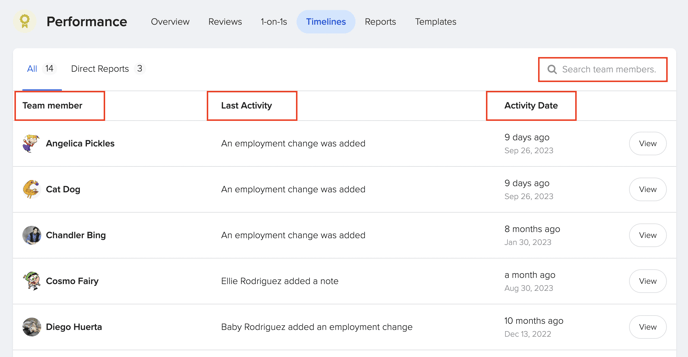 The next tab that you have access to in your Performance Management Module is "Reports", here is where you will create and edit your Review Reports. For a guide on Performance Management Reports, click here.

The last tab that you can access is your "Templates" tab. This is where you create & edit all of your Performance Management Review Templates. To create a new template, simply hit the "+Review Template" button in the top right of your screen. Check out our help article on Creating a Performance Management Template here!
You can start Reviews for your employees from this screen as well by clicking the blue "Start" button next to your desired Template.

Now that you've covered the basics of your Performance Management App, be sure to check out our additional help articles on this feature for more information!
Check out this video for a visual of the Performance Management App
For additional questions, please reach out to help@goco.io. Happy Reviewing! ✅
Updated 10.5.23