Did you purchase Time Tracking? Great! Here's a setup guide.
🚨Before you get started, make sure you add Time Tracking as an add-on in GoCo!

Once you're ready to set-up a new Time Tracking policy, follow these steps ⏰


1) From the company page, click Setup on the Time Tracking card:

2) Select the employees who will need to be added to the time tracking policy* being built. There's a nifty filter button that will allow you to filter by things like department, location, manager, etc!
*Note: You can have multiple Time Tracking policies in GoCo


3) The next step is to assign who you want approving the time sheets for the employees. You have the option to create a default approver for everyone, or specify by employee directly.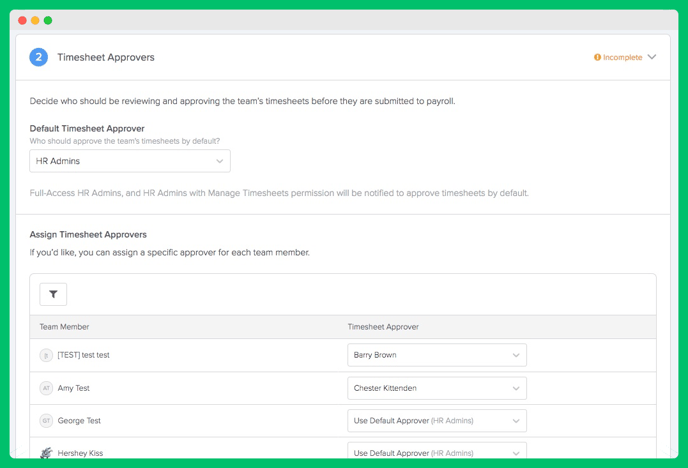 4) Once you have policy members and time sheets approvers squared away, the next step is to define overtime rules. GoCo allows you to toggle between three options:
Don't Track Overtime: If you don't want GoCo to calculate overtime
Use State Overtime Rules: If you want GoCo to calculate overtime rules based on your employees assigned work location
Use Custom Overtime Rules: If you want to configure all the rules yourself
Once you determine your overtime rules, you must determine the first day of the work week. This is a crucial setting to getting weekly overtime to calculate correctly.

5) The next setting is Holiday Hours. When this setting is turned on, GoCo will automatically add holiday hours based on the holidays set up in the team members Time Off policy. The number of hours will be based on the Hours Per Work Week setting in the Time Off policy.
Note: holiday hours will never be used in OT calculations
6) The next major configuration is how you want your employees to clock in/out of the system.
Computers & Mobile Devices: this setting directly impacts the employee. You can allow them to (a) only use the clock in/out button, (b) enter future/current/past date hours in their time sheet, or (c) use both clock in / out and time sheet
Kiosk: If you want to use the Time Tracking Kiosk, you need to select at least the clock in / out option. This will allow you to set up a specific computer, tablet, or mobile device (Kiosk) on which team members can clock in and out. Please see our article about how to set up the Kiosk after you have selected this option.
Timesheet Entry Method: when editing/entering hours in your time sheet, do you want the admins/employees/approvers to (a) enter in the total amount of hours per day, or (b) the start/end times of their work day.
*note: when the employee can only clock in or out, this setting will only apply to the HR admin/time sheet approver.
Time Rounding Rule: this setting will round tracked times when exported.


7) The last configurable setting is whether or not you want notes to be required when employees/admins/approvers enter or adjust entries.


8) In order to have a time-tracking policy, you must have a configured payroll schedule. You'll have the opportunity to review the different schedules you have in GoCo here, and if you need to add/remove/edit one, please email help@goco.io


9) Review your settings closely, and when you confirm everything looks good click finish!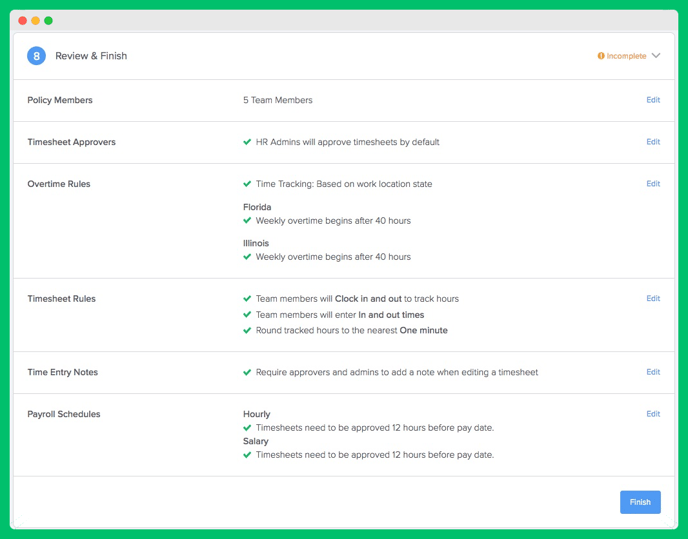 If you have any other questions, please email help@goco.io!