What is the difference between Daily, Weekly and other types of overtime?
Federal law requires that you pay weekly overtime for non-exempt employees. Some states also require additional types of overtime be paid to employees.
GoCo will help you automatically keep track of all the various types of overtime your company is required to pay out to employees. When setting up your Time policies, you will be asked to configure overtime rules. You can choose from "State Overtime Rules", "Custom Overtime Rules", or choose not to track overtime.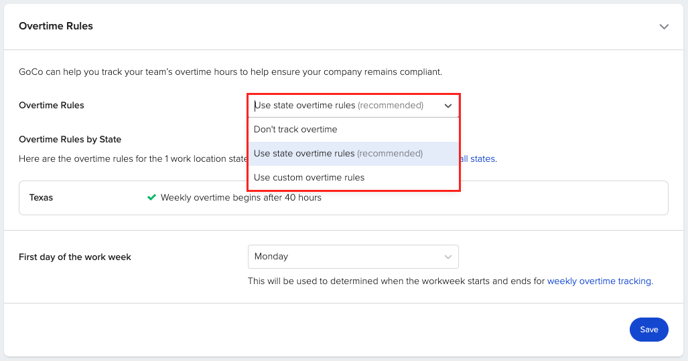 If you choose to use "Custom Overtime Rules", a new drop down will appear to set up your rules. This help article will go over the different options you have to choose from.

Weekly Overtime (Federal)
Daily Overtime
Daily Double Overtime
7th Consecutive Day Overtime
7th Consecutive Day Double Overtime
For more information, contact help@goco.io.