Your employer's admin should have sent you a link to create an account on GoCo. If you don't have this link, contact your hiring admin and ask for it.
GoCo is the HR and Benefits platform that supports your employer. You'll use GoCo to help keep your employee record up-to-date and manage your benefit elections.
Create Your GoCo Account Access
Click your unique employee link. You should have received a "welcome email" from help@goco.io that includes a unique link. If you do not have this email, please contact your HR admin and they will resend it to you. This link will allow you to set-up your employee access in GoCo. Do not share this link with anybody, it's unique to you! To confirm you've followed the correct link, you should see your name & company name + logo: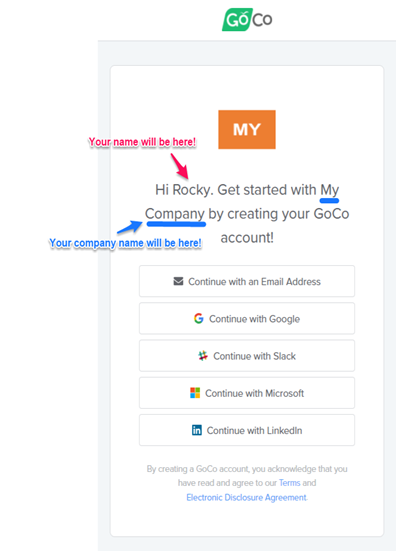 Note: We have a single sign-on option but recommend choosing "Continue with an Email Address" during the initial account access setup. You can always set-up single sign-on in the future.
2. Create your username & Password. The email address you enter will be your username and MUST be the same email address your welcome email was sent to.
3. Onboard: Next, you'll be able to review/enter your personal information and access your profile.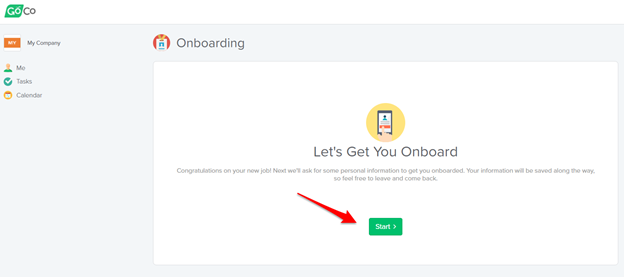 Note: You will not be done with onboarding until you hit the green Finish button!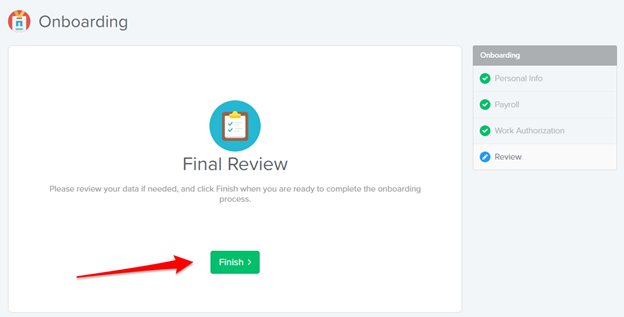 4. Click Go To Dashboard to take a look at your Employee page. Congrats! You can now access GoCo to manage all of your employee and benefit information.
Note: You can now access your account by going to https://secure.goco.io/login and entering your username and password.
Tools & Tips
There's a lot of great features your company may offer. Here are some examples of what you can do in GoCo (availability of each feature varies by company):
Change your personal information (email, address, etc)
Request Time Off
Complete a task that your admin assigned to you (like signing and reviewing documents):
Updated your Payment & Tax information
Enroll in Benefits and add qualifying life events for coverage.
Need more help? Please contact us by emailing help@goco.io or give us a call at 888-788-GOCO.