Curious about our Workflow feature? Read more here!
What are Workflows?
Workflows is a new feature designed to be a flexible way for a company to create and manage any process-driven flow or checklist within GoCo. At a high level, a Workflow is a list of tasks that can be organized and completed in whatever configuration and sequence the company would like. This flexibility allows a company to create anything from a Hiring Checklist to a Promotion Approval flow.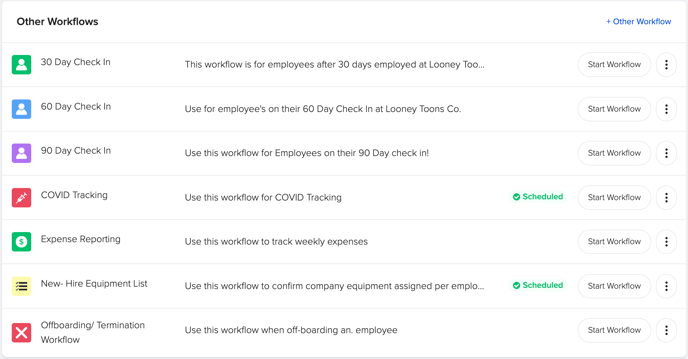 What problems does Workflows help solve?
When talking with lots of our customers, we discovered a pattern around manual checklists. The majority of HR departments have a manual checklist they use to keep track of all the tasks that need to be completed when hiring a new employee or offboarding an existing employee.
Beyond hiring, we've also identified that there are various repetitive processes that HR departments would like to standardize. Some of these processes could be conducting Performance Reviews, having an employee request new equipment, or allowing a manager to request a Promotion with approval for a direct report. Our Workflows module assist HR professionals in managing and facilitating these series of tasks.
What use-cases work well for Workflows?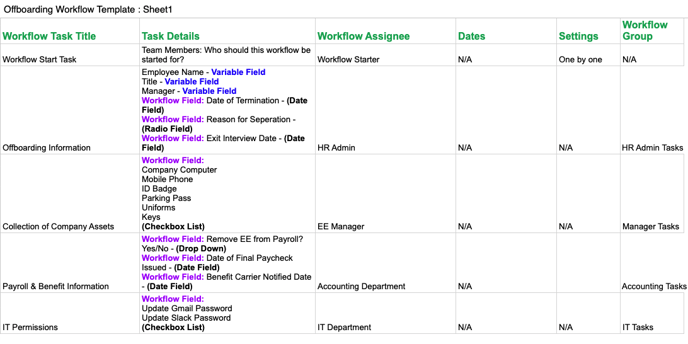 Any process that requires the collection of data from people within the company is a good candidate for Workflows.
Some examples are:
Hiring/Onboarding Checklist (Most Common Use-Case)
HR needs to hire a new employee and ensure all the tasks and data are completed accurately and on time.
Termination/Offboarding Checklist (Common Use-Case)
HR needs to offboard an employee and ensure all the tasks and data are completed accurately and on time.
Basic Performance Review
HR wants to conduct a performance review between the Employee and their Manager.
Employee Survey
HR Admins want to send out a questionnaire or survey to the team to complete.
Employee Training Plan
HR Admin wants to have the employee complete a training course. They can create a Workflow with a task for each step in the course and require the employee or the training manager to certify when a step is completed or even require a certification document to be uploaded.
Employee Orientation Plan
Some companies have the HR and Manager work together to build a 30-60-90 day after hire or similar plan for the new employee. These typically involve a lot of different tasks over an extended period, such as 1-1 meetings with key stakeholders of different departments, manager check-ins, questionnaires or feedback forms to collect to see how the new employee is adjusting, and/or even mini projects to complete. This is similar to onboarding and training plans, but just more focused on the administrative process of setting up a new hire for success within a new role, environment and culture.
Promotion Approval Request
The manager wants to request a raise for an employee. The request is routed to the Admin and CEO for approval.

▲ NOTE: Compensation changes cannot be applied automatically from within a Workflow right now. The HR Admin would need to make an Employment Change in GoCo to actually make any compensation changes effective.
Employee Equipment Request
Employees or Managers need to request a new laptop or piece of equipment.
Reimbursement Request
Employees need to request a reimbursement for an expense.
COVID-19 Vaccination Test Tracker
Employees can upload proof-of-vaccination documents or weekly COVID-19 test results directly into our HR software to help HR leaders ensure compliance with updated mandates & employment policies.


For a full Library of Workflow Templates, click here.
✔ Workflows can collect and store data that lives inside of GoCo.
Please review our additional help articles on workflows to customize & fit Workflows to your companies needs!
For any additional questions please reach out to help@goco.io. Happy Hiring! 🤠