With GoCo's Workflow within a Workflow feature (Workflow-Ception), you can automate a workflow to start from an existing workflow. Keep reading to find out how!
In order to enable a workflow to start from an existing workflow, you will first need to create and publish the workflow that you are inserting. For more information on how to create a workflow, click here!
Once you have created the workflow that you will be inserting, begin creating the "Parent Workflow" that you will be using to start the second workflow with. You can add the "Inserted Workflow" at any step that you wish in the parent workflow as part of a "Task."


To add a Task, click the blue "+ Task" button at the bottom of your workflows settings tab.

Once you have added the task, you can name and add additional steps as well as add your Inserted Workflow. To add the Workflow click the "More" button, then select "Workflow" from the drop-down.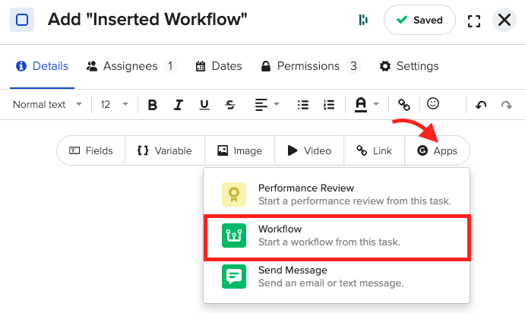 GoCo will then prompt you to select a workflow to insert from all published workflows.
Please note, Hiring Workflows & Anonymous workflows will not appear.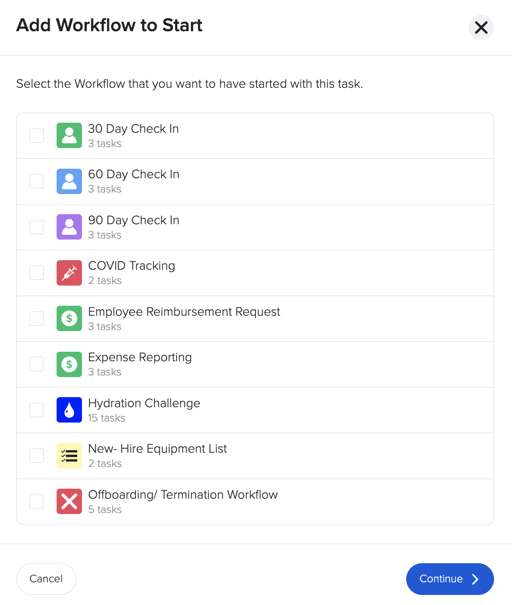 Select the desired workflow & hit "Continue". GoCo will then add your "Inserted Workflow" into your "Parent Workflow" as part of this task. If desired, you can also add multiple "Inserted Workflows" into a single task.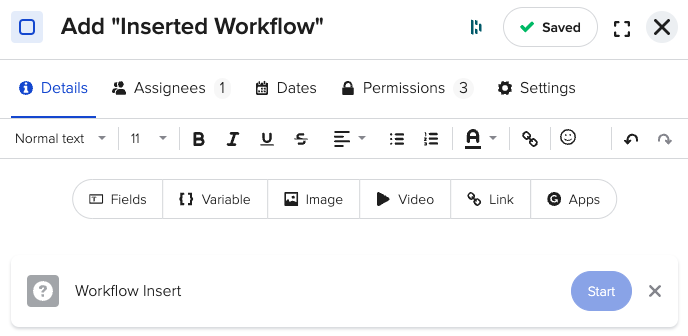 Now that you have added your "Inserted Workflow", complete setting up your task including adding any Assignees, Dates, & reviewing Permissions before Saving & Publishing. After your "Parent Workflow" has been created and published you can begin using it by returning to your "Workflow Templates" tab, selecting the workflow, & hitting "Start Workflow".

The workflow will start and move through all required steps & assignees until complete.
Now you can get started creating Workflows in Workflows (Workflow-Ception)! Some great use cases for this feature could be adding a "Training Workflow" to your Hiring & Onboarding Workflow to kickstart once onboarding has been completed; Or perhaps creating a 30, 60, 90-day Performance Review for a new hire. To do this, you can insert a Workflow Start block into a task to kick off 30, 60, or 90 days after the new hire starts.
With this feature the possibilities are endless, so be sure to let us know how you customized your Workflows in GoCo!
If you have any questions or need any further assistance, be sure to reach out to help@goco.io.💚