This article is a cheat sheet of any and all adjustments you might want to make before (or during) payroll processing.
One-off changes (you only want this to show on the current payroll you are processing)
Earnings/Deductions
After you click "Start Pay-run", you'll be taken to a grid of all your employees. To make a one-off change to an earning or deduction, find the employee you are wanting to create a change for. After clicking on them, a side bar will pop-up allowing you to add in earnings/non-native deductions from the drop-down menu. You will also have the opportunity to override the amounts that are in there.
Examples of one-off earnings are a bonus, commissions, tips cash, overtime, other pay etc. You can customize these categories at any time!
You should not need to add one-off deductions for the benefits stored in GoCo (health, dental, vision, life and disability, etc.). GoCo automatically recognizes life events and any catch-up deductions and should prompt you about these. If another scenario comes up, please contact your CSM.
Please remember making changes in this module will not carry over into the next period, this is a one-off change.

Don't see a category for the type of earning/deduction you need? Email us at help@goco.io
Recurring changes (you would expect this to show up on every payroll)
Earnings
GoCo has an Execupay card that is on each employees profile. If you are wanting to create/adjust a recurring earning, you can do so by clicking "Make Changes" and going through the wizard.
Examples of recurring earnings could be a bonus, car stipend, cell phone stipend, etc.
Please remember making changes in this module will carry the earnings into every pay period.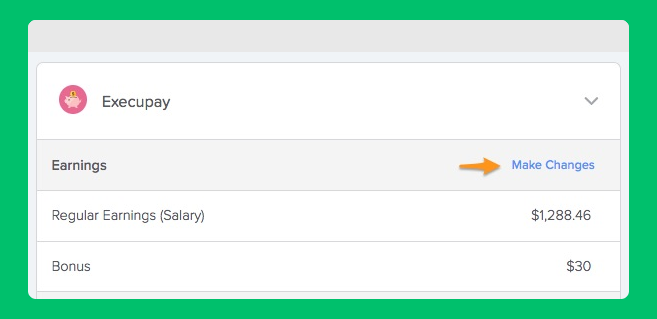 Deductions
If the deduction is stored in GoCo (health, dental, vision, disability, life, etc.), you should not need to change the standard, ongoing deduction. If you have a life event, the deduction will automatically update. If you have another scenario, please email us a help@goco.io
If the deduction is not stored in GoCo, follow this article for guidance.

If you have any other questions please email us at help@goco.io!