What can each user do with Workflows?
Full Access Admins
Primary person creating and conducting the Workflow.
Admin as the "owner" of the Workflow process.
Responsible for creating the Workflow templates, starting the Workflows, and monitoring the Workflow to ensure that the tasks are being completed on time and accurately.
Managers
Can be assigned to tasks within a Workflow template.
Admin assigns certain tasks for the manager to complete.
Manager is automatically assigned to all tasks for the Manager.

Employees / Team Members
Can be assigned to tasks within a Workflow.

Same as Managers, Admins assign the "Team Member" dynamic role to tasks.
Team Member is replaced with the specific Team Member that was selected when starting the Workflow.
External Users
External users can access Anonymous Workflows through a shared link
They will be able to start the workflow and complete the first task in that anonymous workflow. All user information related to this user will display as Anonymous User.
Workflow Notifications

Visit the inbox page. The Inbox page contains ALL tasks and notifications in GoCo that need a user's attention. If a user is assigned across multiple Workflows, all their tasks appear here.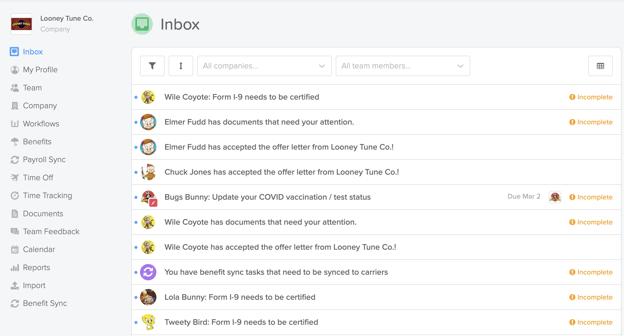 Filter the Inbox page
The Inbox has some advanced filtering options. The two filters that Full Access Admins may be interested in the most is the Assigned To and the Workflows filter.



Assigned To
By default, this filter is set to "Me" so the user only sees their tasks by default. Full Access Admins can remove this filter to see tasks for EVERYONE in the company. This gives them full visibility across the entire company around Incomplete tasks.

Workflows Filter
This lets the Full Access Admins choose a specific Workflow to see tasks for. For example, if the Admin only wants to see tasks for the Onboarding Checklist, they can pick that as the filter option in the dropdown menu.
Note: You can also filter Workflows in the Workflows Page!
Visit the Workflows page. At the top of the page you will see 3 drop down menu options to filter your Workflows. The three options from left to right are Workflows, Status (completed or in progress) and Team Member (all team members, or select specific employees)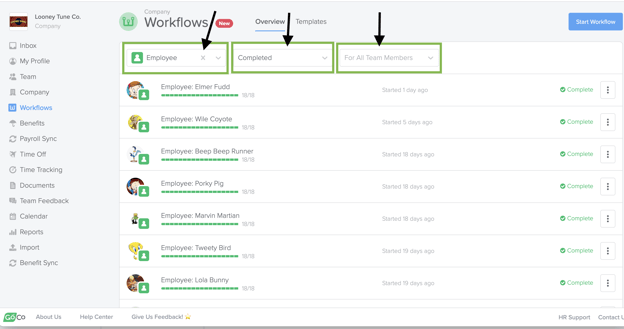 Please review our additional help articles on workflows to learn more on how to customize & fit Workflows to your companies needs!
For any additional questions please reach out to help@goco.io. ! 🦖