How to set up GoCo's integration with JazzHR.
First things first, how does JazzHR integrate with GoCo?
JazzHR is a best in class Applicant Tracking System designed to streamline your hiring process, saving your company significant time & money. Adding JazzHR to GoCo will allow you to import candidate data directly into GoCo, making the employee hiring process that much easier.
Wondering what information is synced? All basic candidate demographic information as well as documents will be pushed over into GoCo. For a full list of what fields sync between Jazz HR & GoCo, check out this page.
Now let's setup that integration:
Under your company information, find the integrations card (located on the bottom right side) and click Manage. From there you will see a list of all integrations available in GoCo.

2. Click the blue Setup button next to JazzHR to get started. From there you'll be directed to login to your JazzHR account.
3. Once logged in, navigate over to Settings --> Integrations. Scroll down on that page and find GoCo's connect button!

4. Switch back over to your GoCo integration page and copy and paste the information in GoCo into the JazzHR fields (hint, the button that looks like a piece of paper will automatically copy that information to your clipboard).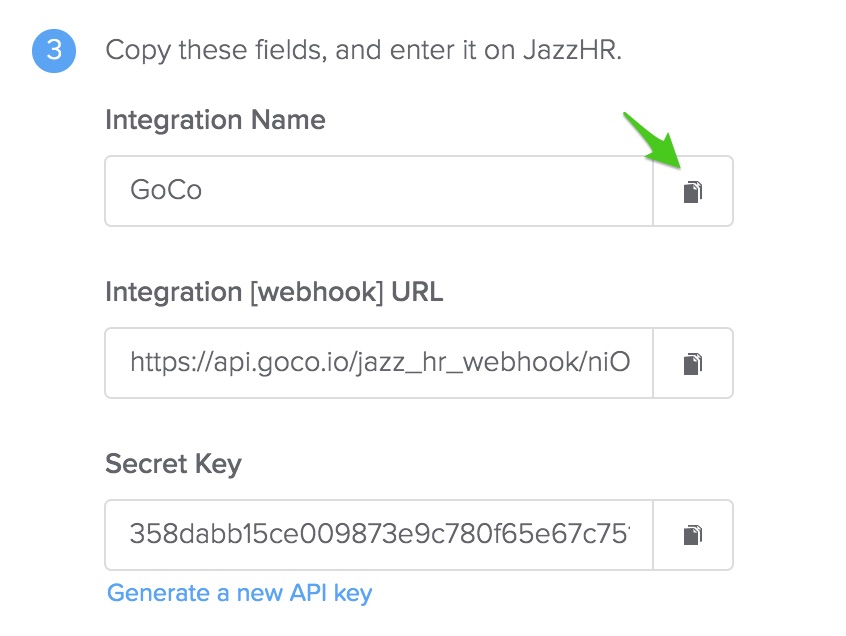 5. Click save in JazzHR and you are done!
Okay, now let's push a candidate over to GoCo.
In Jazz HR, find the candidate you want transferred over to GoCo.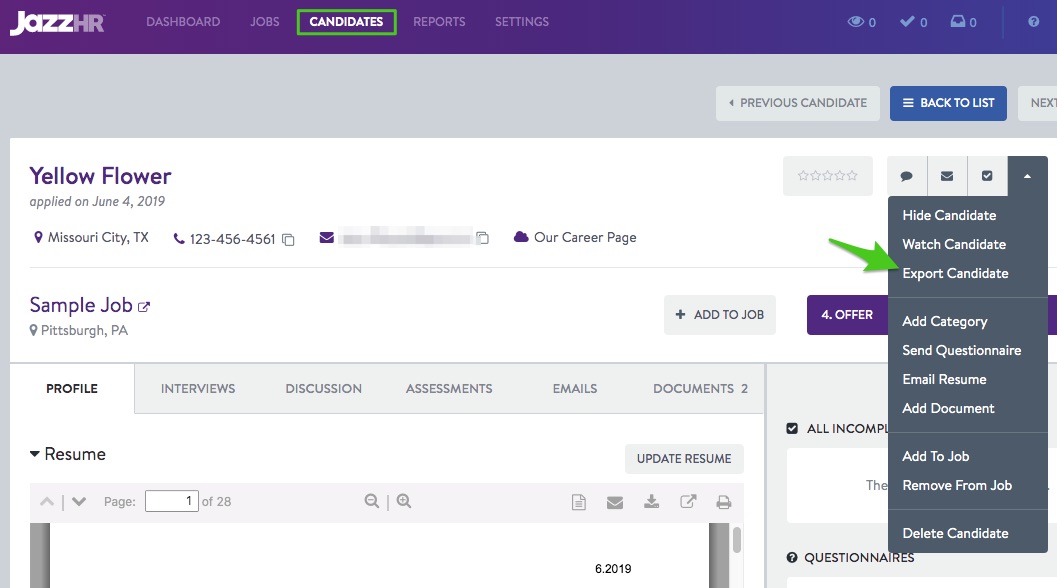 2. See that nifty "Export Candidate" button? Go ahead and click that. Then, find GoCo under the dropdown menu and click "Export"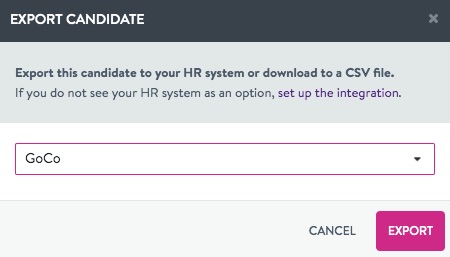 3. Login to GoCo to find your newly imported candidate under your team page. You will find basic demographic information and any documents listed in their document section are transferred over!
4. Almost done! Once you click into their profile you'll see a blue banner that prompts you to finish up the hiring wizard. Click Continue.

5. You will be prompted to specify Employment Type, select Employee of Contractor, click Continue, and entire rest of the employee's info.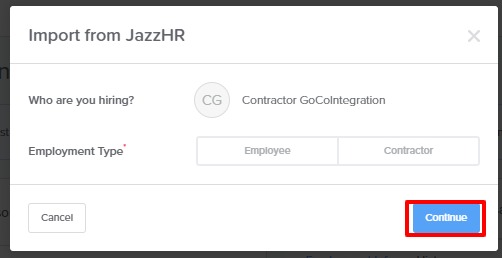 Once you finish that workflow you have successfully completed the import of your new candidate in GoCo. Congrats!
As always, if you have any questions please feel free to email us at help@goco.io.