How to navigate your new Inbox
We've made an update and your inbox will now be in a different spot. Check it out!
Overview: Your inbox will be the central location of all of your notifications and tasks that are assigned to you. If you are an administrator, you might also have access to other tasks as well!
To navigate to your new Inbox:
Log into GoCo
On the left navigation, click on Inbox. You'll see all of your outstanding notifications and tasks to complete here.
Click on the task that needs to be completed to view all the details

You can also use the new filtering, searching and sorting tool to view more specific tasks:



Note: All outstanding tasks will be migrated to your new Inbox.
To View or Archive/Complete a task:
Click on the task you want to view and it will expand: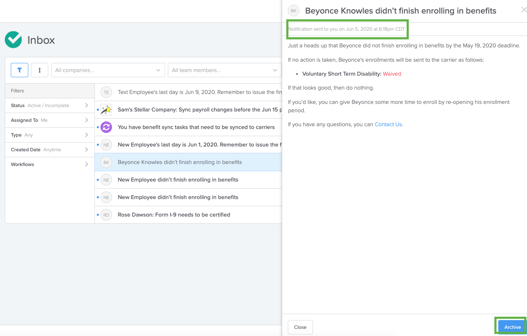 You can see that you can view the timestamp in which this task was generated and also Archive to dismiss and remove the the task from your Inbox. Remember, you can use our filtering options to view Archived/Completed tasks! 😉


Is there a question we didn't quite answer? Send us an email at help@goco.io