Step-by-step instructions on how to add prior year(s) W-2 wages to a plan on GoCo.
As an implementer or an admin, you may need to add prior year wages to a plan. Historically, GoCo calculated all salary-related benefits based on the current wage in GoCo. However, with new improvements we can now accommodate policies that base benefits off of prior year(s) W-2 wages 🎉
Here are the current lines that now allow Prior Year's wages:
Group Life
Group AD&D
Group STD
Group LTD
Voluntary Life
Voluntary AD&D
Voluntary LTD
Voluntary STD
Critical Illness
Read below on how to configure this in GoCo!
First, configure your plan settings
Navigate to your plan build and then to the Benefit Amount card. "Prior Year(s) W-2" is only available if "Multiple of Wages" or "Percentage of Wages" is selected, so select that first.
1. Select Prior Year(s) W-2: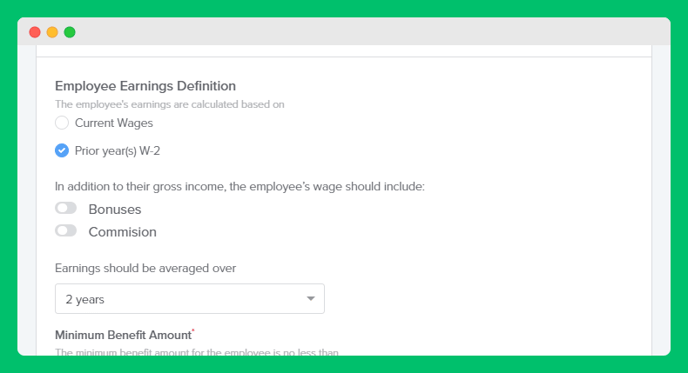 2. (Optional) Select Bonuses and/or Commission if needed
3. Select how many years the earnings should be averaged over
4. Save and Publish
Next, import prior years wages
Now that your plan is configured correctly, you need to import the prior years wages (these amounts should come directly from the employer)
1. Select the benefit line or lines from the dropdown menu that need prior years wages imported:

2. Download the template
3. Fill out column E with prior year wages. If no value is entered, we'll use their current wages. If you have multiple lines, they will be on different tabs. You can copy and paste the values in column E into the other tabs 😀

*NOTE: Do not edit the grey columns!
4. Save the file, upload, review any errors, and click Finish to import.

Please note:
Before you do this process, please loop in the broker/carrier so they are updated benefit amounts on their end, at the same time you are updating on your end. If the carrier never gets updated, GoCo and the Carrier will not match on benefits amounts.
Prior years wages will always retro to Jan 1 of the plan year, regardless on the line start date. For example, if you plan renews in October, it's expected that once you have the prior years wages (typically by March), you import those wages for the plan. This change will take effect Jan 1, 2020.
Because changes will always take effect Jan 1, 2020, you're employees will likely have catch-up deductions on the payroll sync dashboard. This is expected.
It's a good idea to run a benefit deduction report to confirm the updated premium amounts. Compare this against your new carrier invoice and make sure the benefit amounts and premiums match.
If you have additional questions, please contact help@goco.io.