Subscribed to Time Tracking? Now you need a dedicated device to easily clock in and out? Here's how to set up our Time Tracking Kiosk!
🚨 Before you get started, make sure you set up a time-tracking policy in GoCo first!
Once your Time Tracking Policy is set up, you will now see a section for the Kiosk in your GoCo Time Tracking module. Click on "Kiosk".


When you click + Add a Kiosk, a pop-up will appear with the three device options and instructions on how to connect your device.



Web: If you are connecting to the Kiosk through a web browser on a computer or mobile device, you will need to copy the URL and then open it in the web browser on the device you want to use as the Kiosk.
iOS/Android App: You can download the GoCo Time Kiosk app from the Apple App Store for a tablet or iPad. Once downloaded, follow the prompts for installation.

Enter your admin login credentials. If you have full access to multiple companies, you will then be prompted to select which company you are setting the Kiosk up for.
Set up the Kiosk's settings. You'll be able to limit who can clock in/out with the Kiosk by Location, Department, or Time Tracking Policy.


📸 Want a photo snapshot of the employee taken upon clock in/out? Be sure to toggle that setting on!
FAQ

How do I limit my device to only be used for clocking in/out?
For information on locking down a device for Kiosk use, check out these articles for Windows/iOS/Android
How do I make it so my employees can ONLY use the kiosk?
When setting up your policies, simply toggle off the clock in/out and timesheet entry options.

How does enabling a Kiosk impact how employees clock in/out?
When the Kiosk is enabled, employees will be asked to clock in using a 4 digit PIN of their choice. The first time an employee logs in they will set it up. Moving forward, they just need to enter that PIN to clock in/out.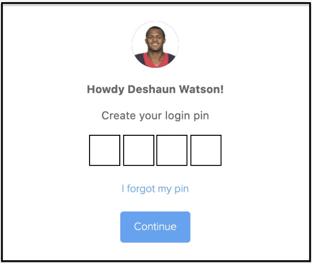 How do I disable a Kiosk?
There are two ways to disable a Kiosk:
Logged in as an admin on your normal GoCo browser, go to your Time Tracking Module. Select the Kiosk tab. Then, click the three dots next to the policy you wish to disable.

On the device, before selecting which team member you are clocking in as, scroll down and press "Admin Settings". Clock in with your admin credentials and select "Disable this Kiosk"


We also have a Mini Crash Course Training on this feature, check it out here:
Have more questions? Email us at help@goco.io