Want to check the status of your Documents in GoCo? Keep reading to find out how to easily pull this information with GoCo Reports!
Managing your employee's documents can be a big task, so GoCo makes it easy to pull a report and have this information at your fingertips in no time! Follow the instructions below to learn how to do this.
Sign into GoCo as a Full Access Administrator & navigate to your Reports App using the tabs on the left side of your screen.

In your Reports App, hit the blue button on the top right to "+Add a Custom Report".
From the pop-out window that appears, select your report type as "Documents" and hit continue.
Input your Basic Info for this report like your Report Name & Description and hit "Save & Continue" when ready to move on to your report filters.
Now you will select which Document Template's information you want to pull, which status you want to pull (Incomplete, Complete, or All), what time frame you want to search, & what team members you want to pull this information for (Active, Pending, both, etc.).


For example, if I wanted to pull all of my offer letters for both my active & pending team members for all time - my settings might look like the photo below.

Once you have selected your report filters, hit "Save & Continue".
6. Now it's time to review your Report Fields! GoCo will auto-populate what fields make sense for your report, but you can adjust these as you see fit. Hit "Save & Continue" to move on to reviewing your Report Permissions.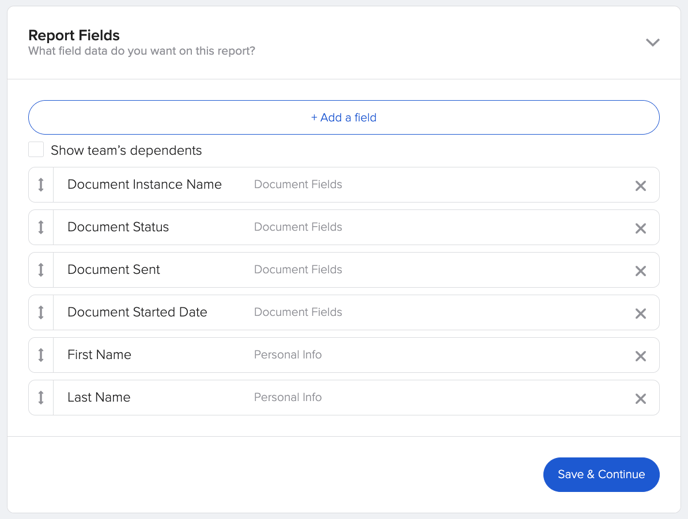 7. Review your Report Permissions & hit "Continue" at the bottom of your screen to generate your new report!
P.S. if you want to edit these permissions, visit your GoCo Permissions module.

8. Ta-da! 🎉 Your report has been generated! You can now save this report, create visuals to go along with it, & even download it to your device.
For any additional questions, please reach out to your Client Success Team or email us at help@goco.io.
Happy Reporting! 📈💚