How do I use "Build Your Own" apps?
Visiting Build Your Own in the Marketplace and looking to get started? Keep reading to learn more!
To access Build Your Own, navigate to the Marketplace from the company home page.

On the left side navigation, underneath the Explore category, click on Build Your Own.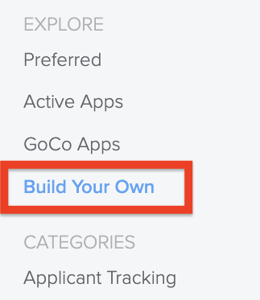 This page allows you to explore our ecosystem of third party applications. You can connect with dozens of other apps by building your own recipe!

Click +Add on an app you have an account with & want to build an automation.

The app page exposes 2 things:


Recipe Templates Tab: Any pre-existing recipes that GoCo has built (usually a simple starting point to solve the most basic use case)


These can be cloned and modified. (once cloned, GoCo no longer manages that recipe)

Build Your Own Tab: Exposes the capabilities of that app's connector via triggers and actions.
Click to Clone or Build, connect your app & begin playing!


Below are Use Cases you may find useful:

I want to create a custom table using data in GoCo and send it securely to another party. (GoCo Connector + SFTP Connector)
When onboarding employees, I want to be able to provision certain accounts like Zoom, Slack, etc.
When using my ATS for Offers/Hiring, I want employees to sync to GoCo with relevant data.
When time off is requested, I want the approver to be notified in Slack. And when time off is approved, I want the requester to be notified in Slack.
Auto update Google Sheets with data from GoCo.
Get Paid Time Off entries into another App
When someone completes the "Request Apps" google form, post to Slack channel
Please email us at help@goco.io for further questions! 🦖