How do I activate this feature and what can I customize?
When logged into GoCo, administrators will notice a new module on their Company Home Page labeled "COVID Tracking". To begin, click the "Set Up" button and GoCo will guide you through getting this new workflow feature up and running.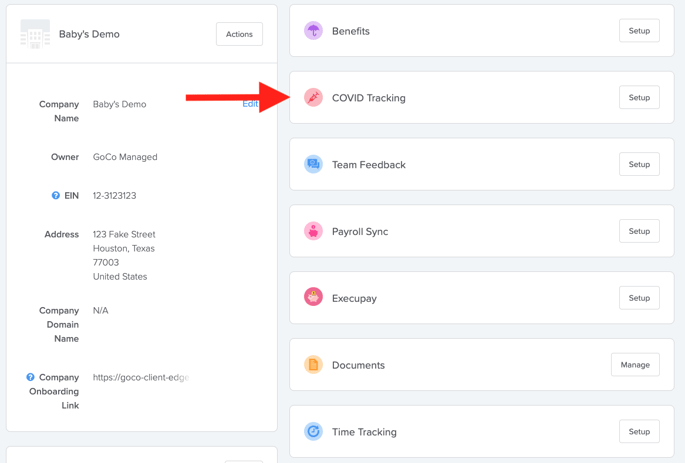 You will first need to activate COVID Tracking Feature by clicking the "Get Started" button. (Please note that the COVID Tracking Feature is part of our Unlimited Workflows Package, if not already purchased you will be asked if you would like to upgrade).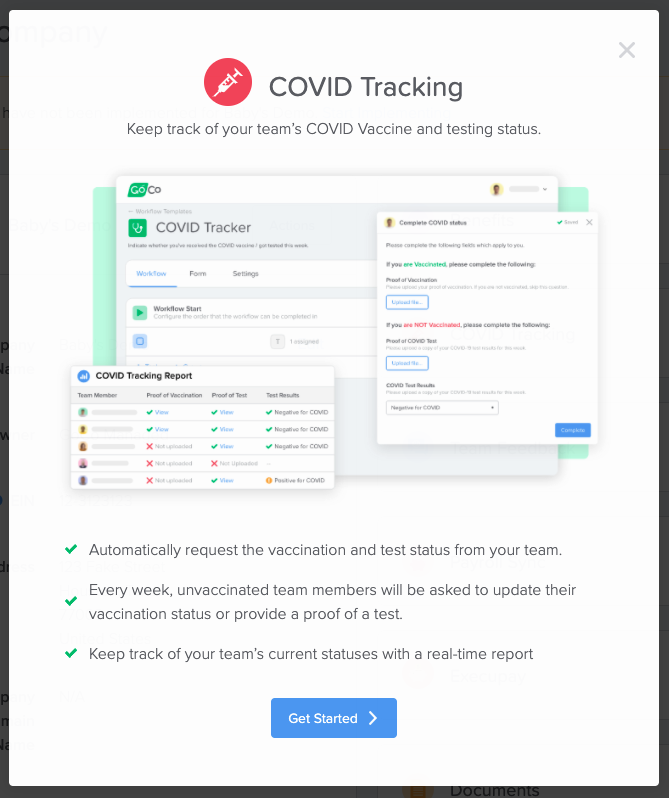 Once activated you will see this confirmation screen. Select "Set Up" to continue to preferences and to customize your new workflow.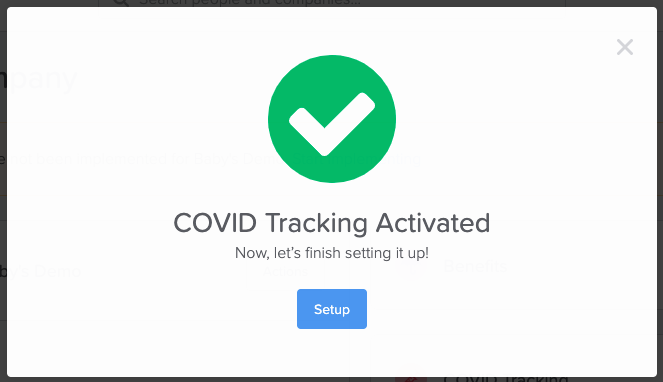 You will first be directed to the "Settings" tab of the COVID Tracker workflow. Here, you can edit the name, description, and icon of the workflow.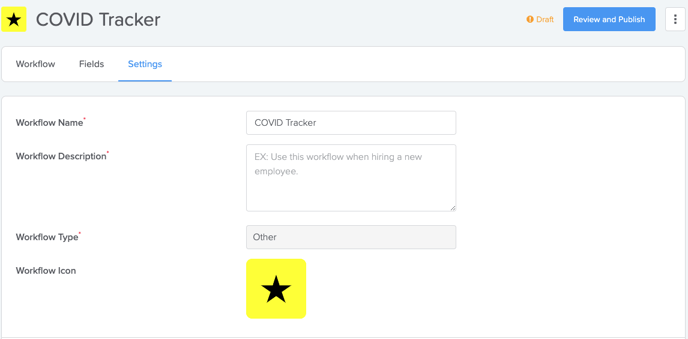 You can also modify who you're tracking and when they'll be asked to upload their test results underneath the "Schedule" portion of this page. You will select either all active team members or assign to specific team members.
If you chose to select certain team members, you will be directed to a new screen to make you choices. You can filter by Employment Type, Location, Department, etc. Once you have confirmed who you would like to collect information from, select save to continue on to scheduling.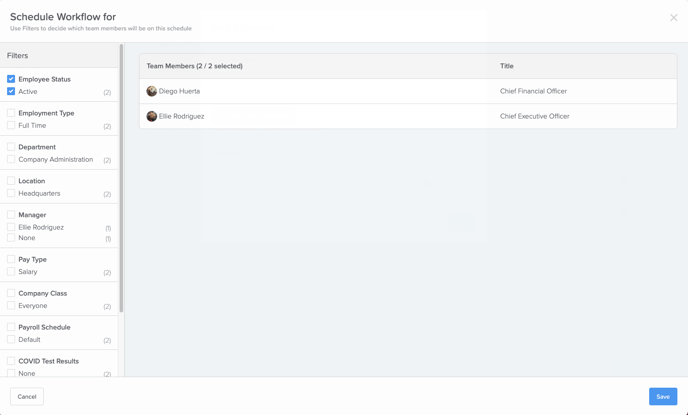 Next you will set your schedule for this workflow. You will input how frequently you would like to collect this information, either weekly or on a specific date. If you select weekly, you will be asked which day of the week you would like this workflow to be active; similarly if you select on a specific date, you will be asked to input a date (mm/dd/yyyy) of when you would like this workflow to start.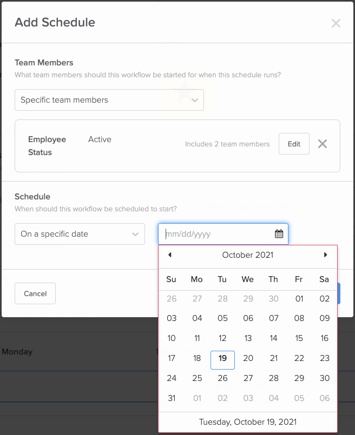 Once you have selected your frequency and who will be participating you can save your choices to continue with setup.
Please note that GoCo allows for multiple schedules to be set at once. If you wish to collect information for a different department on a different day, you would simply hit "+ Add Schedule" and add as many as needed.

Once Scheduling and Team Members have been completed, Administrators can continue to the "Workflow" tab. Here, we can view and edit the tasks and groups in this workflow.

GoCo will automatically populate a task to ask employees to upload a photo of either proof of vaccination or their COVID test results. It will then prompt them to answer a multiple choice question indicating the result of their test. If you would like to update and make any changes to this, you can do so here. Some examples may be making these fields required or not, adding additional tasks for your employee's to complete, adding new information to collect, etc.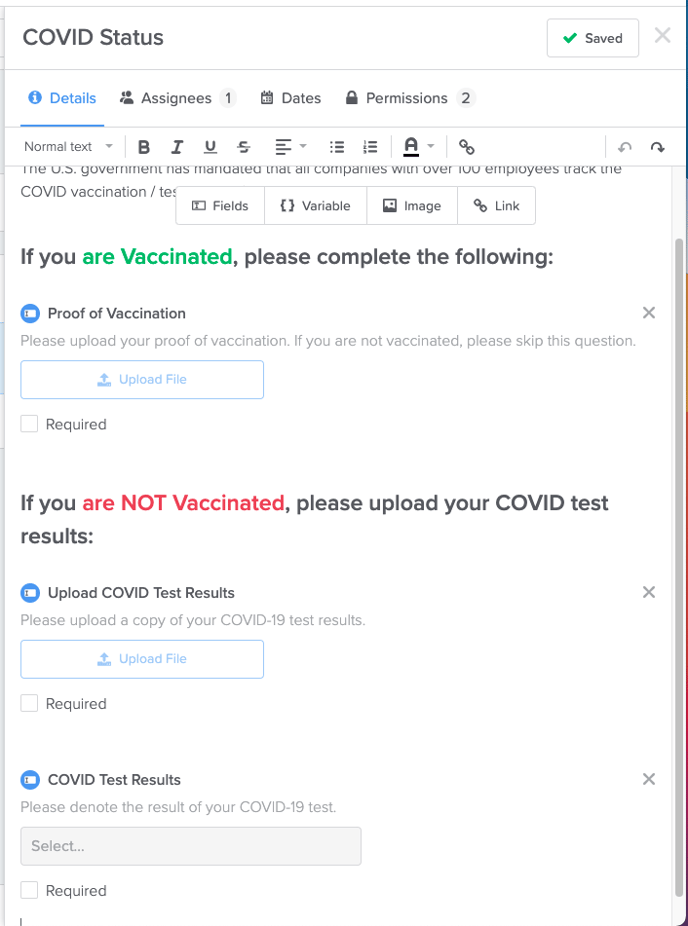 Once this is completed, Administrators can move on to edit the Custom Fields & Workflow Fields of this workflow underneath the "Fields" tab.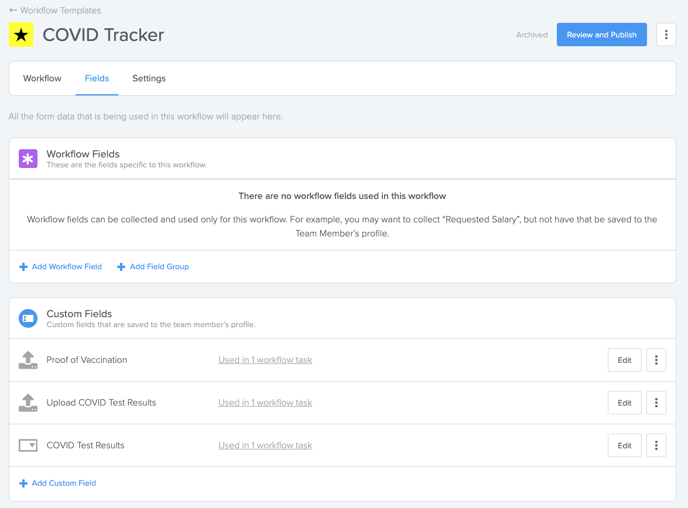 Here, you can add new Workflow Fields to be collected and used only for this workflow. For example, you may want to collect "Requested Salary", but not have that be saved to the Team Member's profile. To do so, you would simply hit "+Add Workflow Field", you can further group these fields by selecting "+Add Field Group".

Administrators can also edit the Custom Fields on this workflow. While Workflow Fields live in their specific workflow and can not be saved to the Employee's Profile, Custom Fields are collected and stored to the Employee's profile for easy reporting when needed.

Clicking on the "Edit" button next to a custom field will allow you to edit the field's name, description, and what type of data you would like to collect (file upload, multiple choice question, etc.).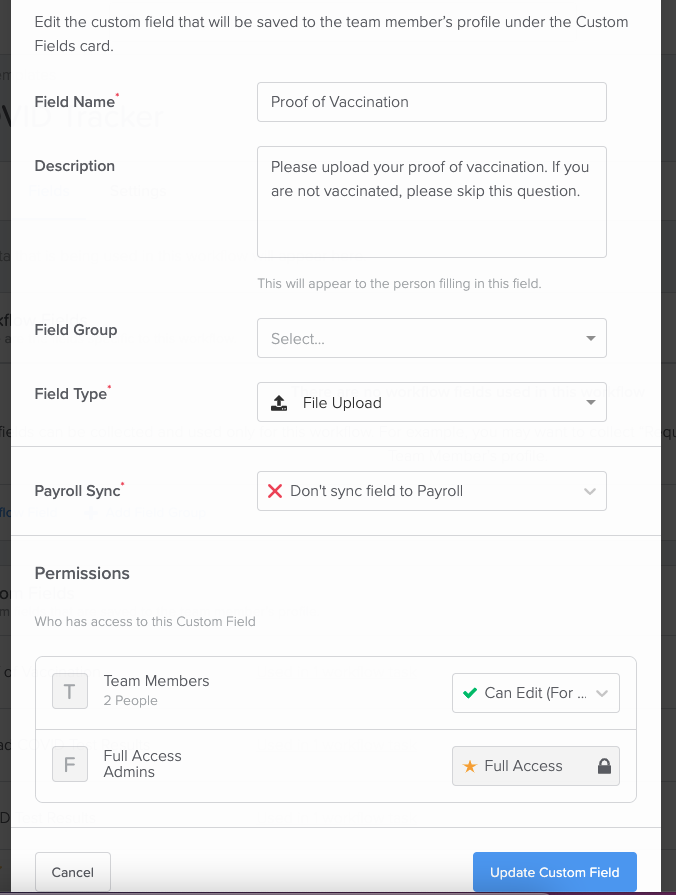 Clicking on the ellipses button next to the "Edit" button will open up a new option to select "Custom Field Workflow Settings".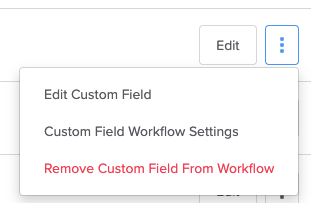 Here you will be able to decide whether or not you would like to reset the custom field each time the workflow starts. By default this is set to "Keep Value".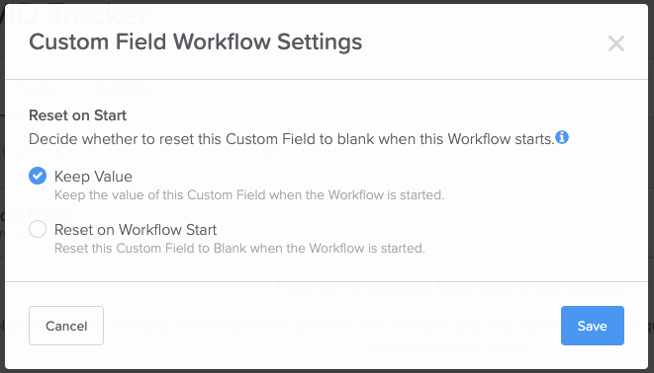 Once you are ready and have saved all your preferences, select "Review & Publish" to make your new COVID Vaccine Tracker Workflow available for use.


Once a workflow has been scheduled, you will be able to confirm that it is active when you see "Scheduled" next to "Review & Publish".
I've set up my COVID Vaccine Tracking Workflow, now what do my Employee's see?
All employees that are enrolled in this new workflow will now receive notifications to their GoCo accounts and emails linked to those accounts letting them know that they have a new task to be completed.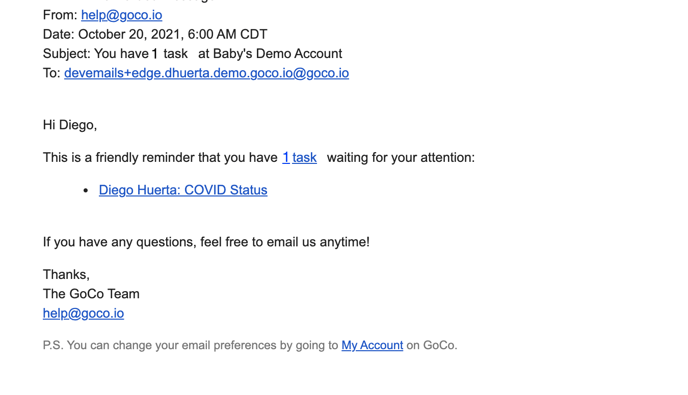 They will log into their GoCo accounts and see a new message in their inbox prompting them to complete their assigned tasks.

They will be asked to fill out all required information before the due date set.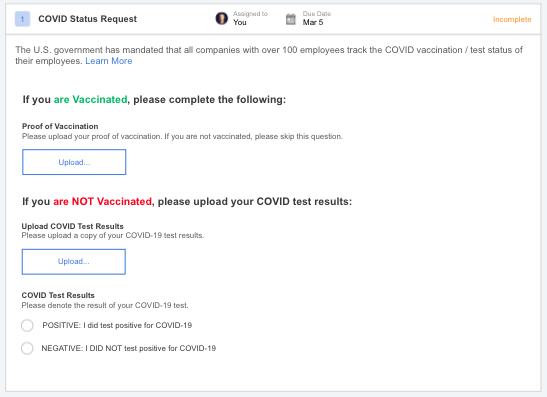 All information will be stored and housed in GoCo for future reporting. For more information, contact help@goco.io.