How do I pull a report of all my employees' payroll changes?
Looking for a report of all payroll changes that have been made in GoCo for a payroll period? Keep reading to find out how!
1. First login to GoCo & navigate to your Payroll Sync Dashboard, either from the Navigation tabs on the left side of your screen or from your Company page by finding the card that reads Payroll Sync.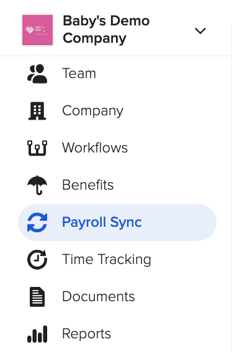 2. Click Start on any payroll cycle to begin.

3. This will take you to a new screen to begin running your payroll cycle. Here, click on the Audit button toward the top right corner of your screen.

4. Toggle the Show Only Changes off so it's in a grayed-out state. If you wish to filter by a specific employee, use the dropdown to make your selection.

5. Now, simply click Download on the right of your report!

This will produce an exportable report that includes all employee information as well as deductions details.
For more information, reach out to your Client Success Team or contact us at help@goco.io.
Happy Reporting! 📈💚