What is E-Verify by Tracker I-9
Tracker I-9 is the industry's most advanced I-9 compliance offering for employers. Created by internationally recognized immigration experts, it's the only smart I-9 compliance tracking software that maintains a perfect track record of zero client fines in ICE audits.
How do I integrate with E-Verify by Tracker I-9
Login to GoCo and navigate to the Marketplace from the company home page or left side navigation.

Click on the E-Verify by Tracker I-9 app within the Preferred section

Now click on Contact Us to get started. Submit your request in the pop up menu and our team will get working with you on your custom integration.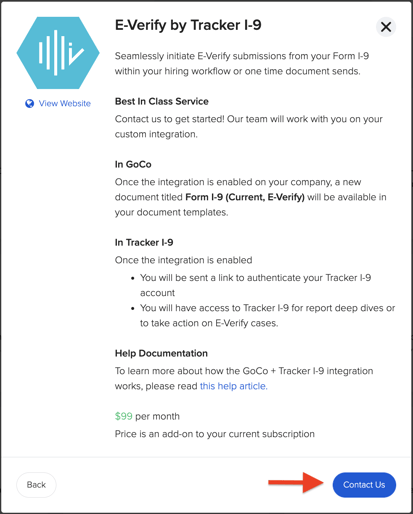 Once the Integration is installed
You will receive an invitation to set up your account on Tracker I-9.
Complete set up of your Tracker I-9 account.
After completion, you will see a new Form I-9 in the Government Forms section of your Documents app called Form I-9 (Current, E-Verify)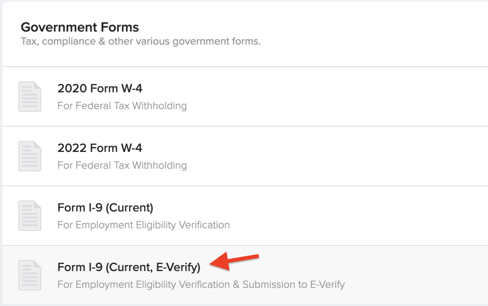 Document Settings
Click on the ellipsis button of the new I-9 Document and select Settings. Here just like our native Form I-9, you can set up who should be allowed to verify Section 2 by .
You'll also notice this new document has an additional step (Step 3) for E-Verify submission.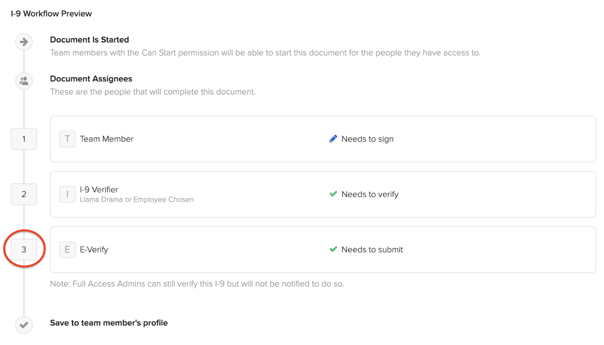 Once the document is sent admins can see a status report of the steps anywhere the document is listed in GoCo (Documents Overview/ Templates, Team member's profile)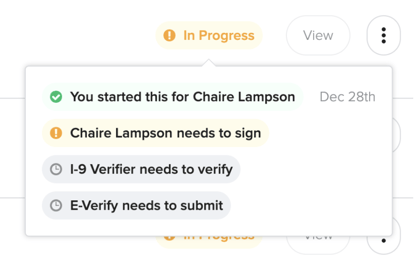 Using the integration
Depending on your processes, you will need to either:
Modify your existing hiring workflows, remove the Form I-9(Current) document and add the new Form I-9 (Current, E-Verify)
Create a new hiring workflow specific for employees who need to be submitted to E-Verify and ensure the new Form I-9 (Current, E-Verify) document exists in that workflow.
You can also send the document, one-off, outside of a workflow. Simply click the ellipses button on the document template and select "Send to" from the drop down. Select the designated EE.
GoCo will not allow both I-9 documents to be started for the same employee.
Sending the document
Hiring Admins: Sending the new Form I-9 (Current, E-Verify) to the employee is exactly the same as our native form. It appears seamlessly in the hiring workflow and/or can be sent one-off.
Completing Section 1
Employees completing onboarding: The experience is quite similar as well. The document appears within the Work Authorization step of onboarding. Once the employee clicks "Start", they will see the Tracker I-9 form inside of GoCo.
All the required information captured from the previous onboarding steps will auto-fill into the form (unless opted out). Any field that can accept N/A and is left blank will automatically receive N/A. (Employee will be prompted to approve this action.)
All the employee needs to do is:
Choose their citizenship status
Provide an electronic signature
Indicate whether or not a preparer/translator was used
Once the employee clicks "Continue", they will see a confirmation screen that Section 1 was completed. Here they may access various informational posters about E-Verify and employment verification.
Finally, they may complete the Work Authorization step and continue with/complete onboarding.
Completing Section 2
If the verifier is someone who is not an admin at your company (Employee appointed, for example), an email will be sent to that person with instructions on how to complete section 2.
If the verifier is a hiring admin at the company, a "Start" button will appear and the document steps will state that "You need to verify."
When Start is clicked, a new tab will open and the verifier will be asked to log into Tracker I-9. For security and compliance purposes, Section 2 must be completed inside Tracker I-9.
When inside Tracker I-9:
The verifier will be asked to choose the verification documents
Employment information will autocomplete
Verifier will need to agree and sign electronically
E-Verify Submission
As soon as Section 2 is completed and submitted, the case is submitted to E-Verify. No more manual data entry! The result should appear quickly. The results are also visible in GoCo.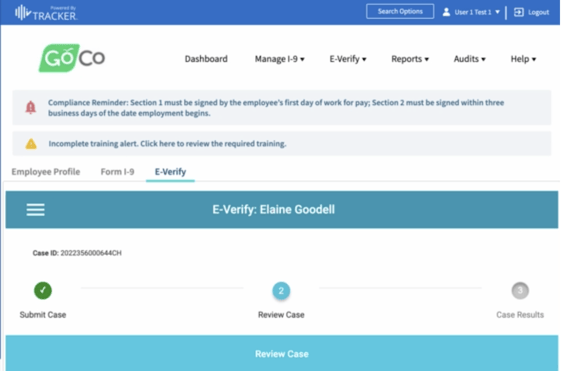 FAQ's:
Can I use both GoCo's native Form I-9 (Current) Document and the new Form I-9 (Current, E-Verify) document?

Yes, if for whatever reason, not all of your new hires need to go through E-Verify, then you can use both documents for your processes.

What E-Verify information is visible in GoCo?

Once a new Form I-9 (Current, E-Verify) document is sent, from the document dashboard you can see:

Status of the document
When the form was sent
When the E-Verify case was submitted
The E-Verify case number
The E-Verify case state
The E-Verify next action
Additionally, for admins, the E-Verify employment status is visible on the employee's profile.
When is the new Form I-9 (Current, E-Verify) document complete?

There are 2 final status for E-Verify cases that will result in a completed Form I-9 document:
Authorized (The case was closed with reason type: Authorized. The document is complete)
Case Closed (The case was closed with any other reason besides Authorized. The document is complete.)
If an E-Verify action is required, what do I do?

Any actions need to be addressed inside Tracker I-9. You can quickly access the case by clicking on "View in Tracker" from the tools button.
I can't wait to get started, what do I do?

Reach out help@goco.io or your designated client success manager to get started!