Are you trying to add a second check for an employee (like a bonus)? Read below for instructions.
So, you've started processing payroll in GoCo. There will likely come a time when you need to add a separate paycheck for an employee (like a bonus or a reimbursement). Once you are on the step of reviewing the individual checks in Execupay, you're ready to add an additional check!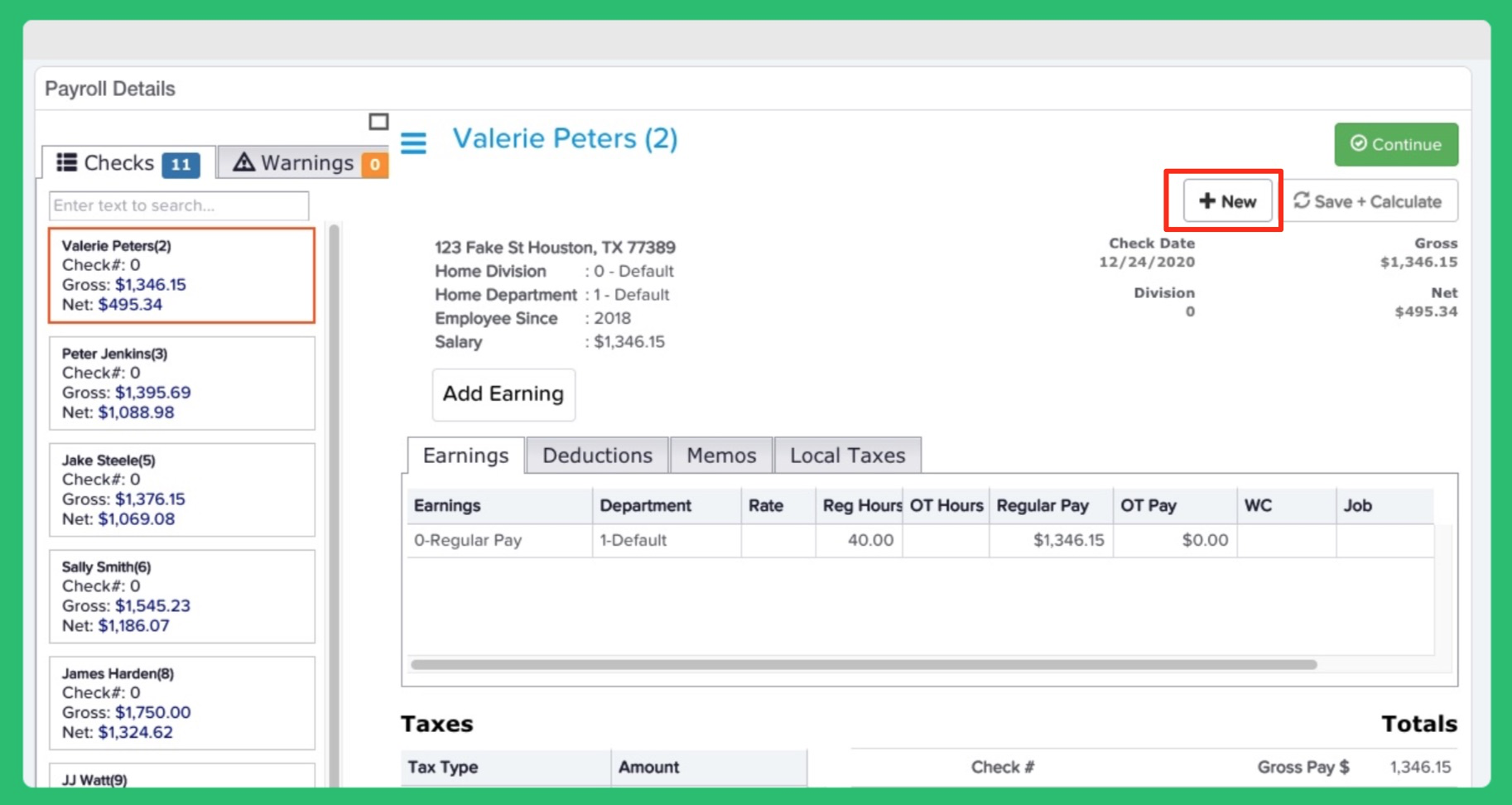 To start, click on the + New button on the upper right.
You'll be presented with a pop up where you must selected the division, and then the employee from the dropdown. Once you have those fields filled in, click "Add New"
Your new check has been added! Where can you review it? Search by the employee's name in the left menu bar, and you'll find the original check and the duplicated check.
Before you move onto the next step, you'll first need to determine which check is the original, and which is the duplicate. Here's an easy way to tell:


On the pay stub, click on all the sections (Earnings, Deductions, Memos, Taxes)


Original checks will have any additional earnings listed (if applicable)
Original checks will also contain deductions (if applicable)
Note: It's really important you delete the duplicated check. If you delete the original, you will have to manually go back in to add any recurring or one time deductions & earnings.

If your checks are identical, move onto the next step!

Make sure you are on the duplicate check and not the original, then delete/add/adjust any fields within the check (ie change the earning to bonus, and add in the bonus amount).

As you're making changes, the fields will turn green showing you the changes are made



Once all your changes are done, click the green button on the top right corner "Save & Calculate". This will recalculate the earnings/taxes/etc.
Once everything looks good on your end, continue with your pay run as normal!
Reach out to your CSM if you have any other questions on this topic.