When an employee submits a time off request, this will generate a notification in GoCo for their manager to review the request and either approve or deny the submission. Managers will be notified of the request notification via email per your email settings.
When a manager either approves or denies the request, a notification will be generated back to the employee regarding the status of the request.
To view and respond to the request, login to GoCo. Then, click the Time Off tab on the left-hand side of your screen. This will take you to the Time Off overview for your team members, which provides a list of requests, anyone currently out of the office, and anyone with upcoming time off. If you have no other questions about the request, you can approve or deny the request directly from this screen. Please note: replying to the notification email of the request submission will not approve or deny the request.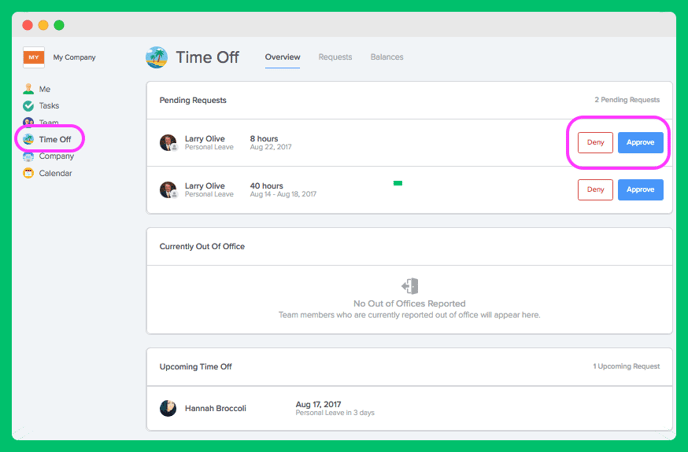 If you would like to see the request more in-depth, or if you would like to provide some written feedback along with your response, switch to the Requests tab at the top of your screen. Here, you will be able to see more information about a specific request such as how many hours the employee has remaining, etc...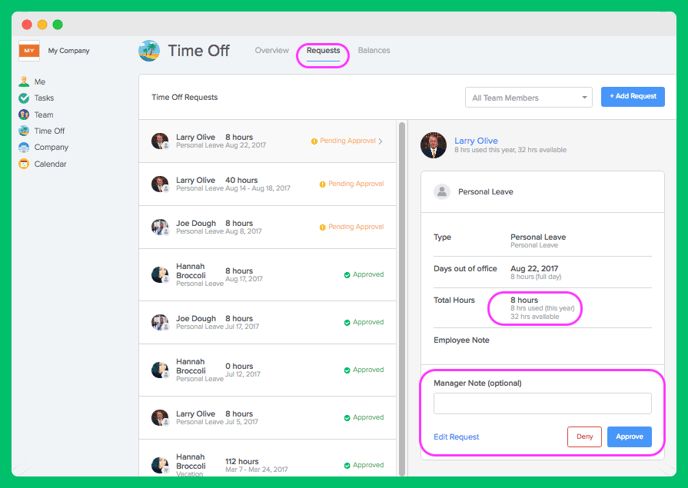 If you need to edit a request (change dates, hours, etc...), navigate to the Requests tab as shown above, and click the small blue link that says Edit Request.
If you have additional questions, please feel free to contact help@goco.io.