Do you have an employee under "needs review" that is flagged for missing information?
When you start processing payroll in GoCo, you will likely come across some items that are in a "Needs Review" state.
One of the more common scenarios that an item pops up here is when an employee is missing critical information that must be in payroll before processing their first check.
Some of those items include:
Basic personal information (like name, address, SSN)
State/Federal Tax Withholding
Payment information (like direct deposit)
You might be wondering why an employee hasn't filled out that information. To investigate, check their GoCo status and see if they are listed as "Hiring" or "Onboarding". If so, this means they haven't started the process yet, or they started and didn't finish. If they are Active but still missing information, contact your CSM right away.
Luckily when missing information comes up you have a few options in GoCo:
Remove them from this pay run so they don't get paid
Ask the employee to fill in their profile then reset the whole pay run (this wipes all changes you may have made so far on the pay run, so be careful!)
Fill in the missing information on this screen, within the pay run. Read the warnings carefully to see what is required. Sometimes you can just check a box that allows GoCo to send Execupay the default values. See some examples below: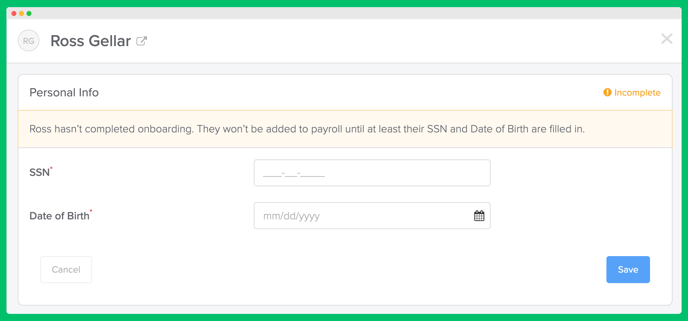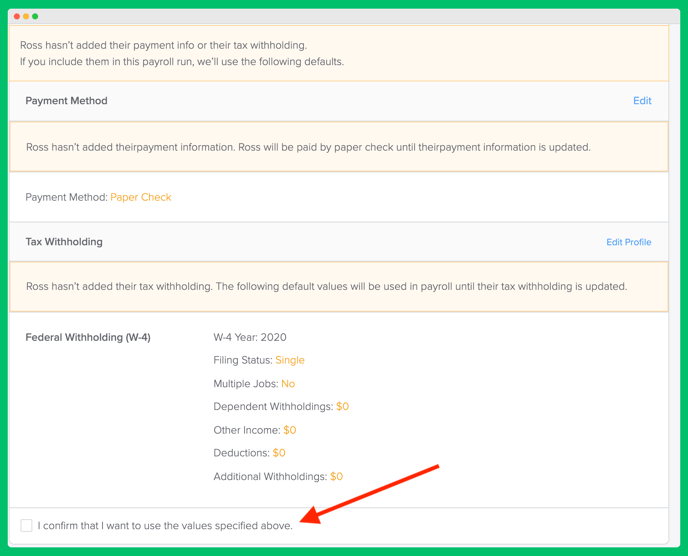 Once you have resolved these items you are ready to finish running payroll!
If you have any additional questions, feel free to email us at help@goco.io.