Read this guide to learn how to process payroll in GoCo!
1. Before You Process Payroll:
Remember that these employee items will already be updated in Execupay:

Payment method
Tax Information
Benefit Deductions
Personal Information

Make sure any recurring earnings are on employee profiles in GoCo
Approve all PTO requests for this period
Approve all Time Sheets for this pay period. After they are approved, you must also select "Export to Payroll". If you have Contractor time sheets to approve please review this link.
Review all recent terminations. Are there any final checks you need to process on this run? Verify the Final Paycheck Option you selected for your terminated employees.
2. Processing Payroll On GoCo:
Before starting payroll in GoCo, you should make sure everything is ready on the Execupay side. Follow this step-by-step guide so you don't miss anything!
Are there any new garnishments that need to be added for employees?
Yes: Email your Execupay rep and make sure they add it to the employee's profile before you start your pay-run
No: continue to the next step!
Click on the Execupay card & Start Payroll Run: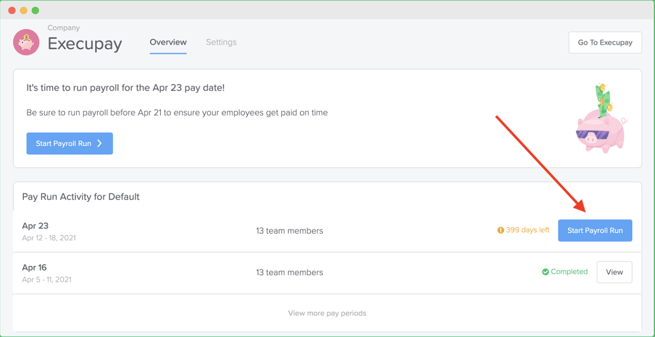 Use our regular view or switch over to our "Grid View" & review any and all items that are in a "Needs Review" state
Have hourly employees that need hours added? You can add these one at a time, or you can use GoCo's import feature.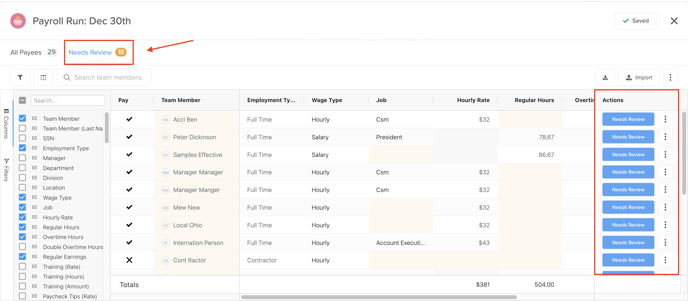 Add any one-time earnings or non-native deductions to the corresponding employees in the pay run (bonuses, commissions, etc).
Click the Send to Execupay button (it's in the upper right corner)
🚨 Warning: once you click this button, there is no going back to edit in GoCo! This takes a snapshot of the data in GoCo and locks you from making any changes.
3. Submitting Payroll on Execupay
Once logged into Execupay, click Start Payroll to continue to the process.


Confirm the pay dates and pay period look correct, and leave the default "Include Online Hours" box checked (this is how you know the GoCo data has transferred over!). Click Create Payroll to continue.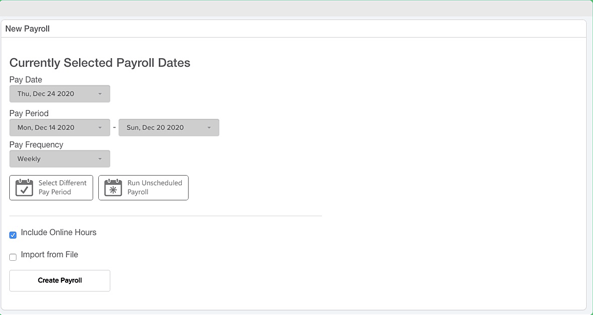 Review the power grid to make sure everything looks good! If you need to make an edit, click on the values/cell and type in what needs to be adjusted:

To continue to the next screen click Process in the upper right corner (don't worry, this doesn't finalize any checks just yet and simply takes you to the next screen!):


The last step is about your final review options before checks get processed. You can review Individual checks ("Payroll Details") and/or check totals ("Payroll Totals"). It is always smart to check both, but you can choose which you prefer by clicking the corresponding green box: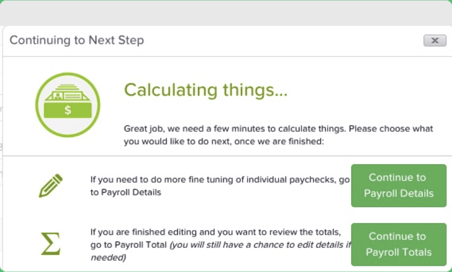 Note: If there is a warning on a check (like there is a negative check amount or a missing state tax withholding) it will automatically route you to the Payroll Details.
Here is a sample of the individual checks view: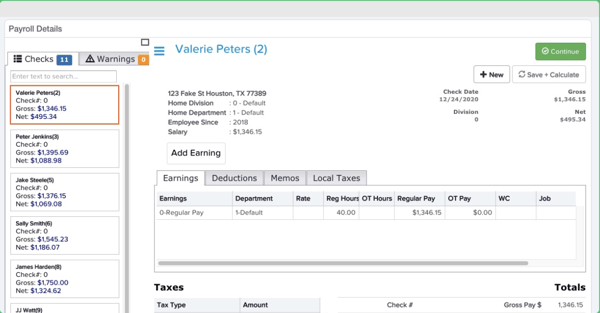 If there are any warnings please review them on the Warnings tab in the upper left corner. Contact Execupay if you have any questions on how to resolve them.
If you need to cut any separate checks you can do so on this screen by clicking +New in the upper right.
To move to the final review page click the green Continue button in the upper right corner.
On the final Submit Payroll screen, you can download the Payroll Register and Payroll Register Totals reports. Review these carefully 😀

Click Submit Payroll when you are ready to hand it over to Execupay to process checks (if you have any special instructions, you can do that here!)

Note: The deadline to process payroll is 3pm CST 2 days before the pay date.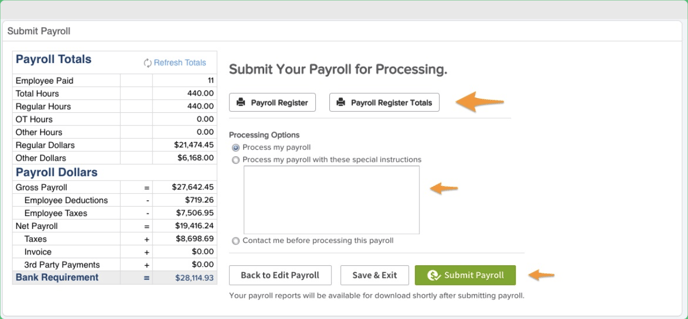 Once payroll is processed, you can access most reports in Execupay. GoCo also has an excel version of the payroll journal under the "Reports" app. You can access this by clicking on "Reports" on the left-hand menu in GoCo, and then clicking "Payroll Journal".
If you have any questions at all during this process, please reach out to your GoCo CSM!
Happy Hiring! 💚